Workshop: (Self-)Narratives and
Traces of Upheaval in the Œuvre
of Artists
Participants: April Eisman, Melanie Franke, Florian Grotz, Viola Hildebrand-Schat, Angela Lammert, Elske Rosenfeld, Anne Rieck, Luise Thieme
The workshop on (Self-)Narratives and Traces of Upheaval in the Œuvre of Artists of the GDR will take place in the scope of the Images of History in Contemporary Art research project, funded by the Swiss National Science Foundation (SNSF) in Berne:
September 22, 2023, 10:00 a.m. – 08:00 p.m.
VENUE
Wissenschaftsetage im Bildungsforum (Universität Potsdam)
Am Kanal 47
14467 Potsdam
The workshop sets out on the search for a precarious relationship, namely that between artistic practice and the self-narrative as a genre for narrative depiction of a life.
The self-narrative is examined as a social form of knowledge and as a cultural pattern arising from the history of ideas that engenders concepts of individuality and identity in the form of a range of materials. The relationship between narrative and artistic practice that is envisaged presumes less an illustrating or mediating relationship than a performing one. This is because for both the narrative and the artistic practice, what is not said and not shown is also meaningful. Precisely the omissions and emphases can show something of the configuration of the self, in particular its embedding into the lifeworld of the GDR. Hence, a self-narrative is neither pure fiction nor a faithful rendering of all of a life's actions and coincidences, but rather a plausibility test of narrative contexts that constantly renews itself.
Self-narrative sources include diary entries, photographs, artists' books, notes, letters, postcards, posters, (literary) writings, films and oral history, such as interviews with artists. The workshop examines self-narratives of this type with a view to artists in the GDR and their works, investigating how artistic convictions feed into descriptions of one's own life, and vice versa, how autobiographical experiences feed into art: where does the oeuvre begin and where does it end? How can the oeuvre of artists from the GDR be seen and (re-)interpreted through the lens of their autobiographical writings? Do autobiographical self-thematisations of critical life events provide insight into more or less concurrent changes in direction in the artistic work?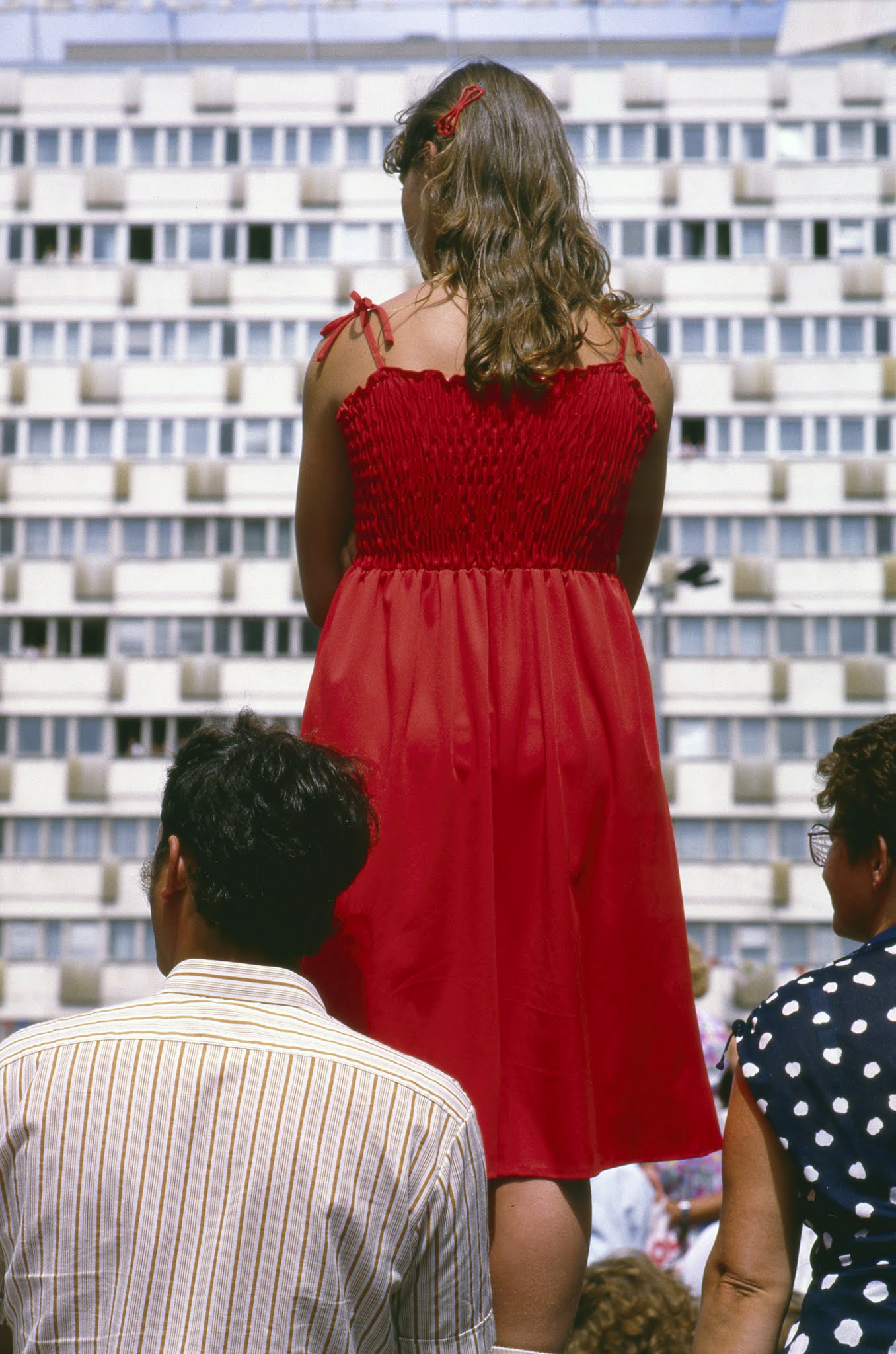 Seiichi Furuya, Berlin-Ost 1987, Copyright the Artist, Courtesy Galerie Thomas Fischer.
WORKSHOP PROGRAM
Friday, September 22, 2023
10:00 – 10:30 a.m.
Arrival
10:30 – 11:00 a.m.
Welcome & introduction
TELLING ABOUT ONESELF: PRELIMINARY CONSIDERATIONS
Melanie Franke (head of "Images of History in Contemporary Art")
Artistic and poetological forms of expression of autonomy
11:00 – 11:30 a.m.
ARCHIVE OF GESTURES: ARTISTIC RESEARCH ON GESTURES OF THE POLITICAL IN REVOLUTION AND PROTEST STARTING IN 1989-90
Elske Rosenfeld (Berlin/Halle)
11:30 – 11:40 a.m.
Discussion
11:45 a.m. – 12:15 p.m.
IN SEARCH OF AUTONOMY. SELF-REFLECTIONS AND EVOLUTION OF THE WORK OF EAST GERMAN ARTISTS IN THE CONTEXT OF POLITICAL UPHEAVALS
Florian Grotz (Helmut Schmidt University of the Federal Armed Forces, Hamburg)
12:15 – 12:25 p.m.
Discussion
12:30 – 2:00 p.m.
Lunch break
In the (hand) mirror of history. The retrospective focus on one's (own) artistic biography as a construct
2:00 – 2:30 p.m.
MARKED BY LIFE – ELISABETH VOIGT AS MOTHER COURAGE
Anne Rieck (Philipp University of Marburg)
2:30 – 2:40 p.m.
Discussion
2:45 – 3:15 p.m.
RADICAL INTIMACY – SELF-ARCHIVING PRACTICES IN THE WORKS OF GABRIELE STÖTZER AND TINA BARA
Luise Thieme (Friedrich Schiller University Jena)
3:15 – 3:25 p.m.
Discussion
3:30 – 4:00 p.m.
Break
The visuality of biography. (Self-)reflectively following traces in the archive
4:00 – 4:30 p.m.
THE SUB-TEXT OF THE OBVIOUS. THE AUTOBIOGRAPHICAL IN CORNELIA SCHLEIME'S OVERPAINTED PHOTOS
Viola Hildebrand-Schat (Goethe University Frankfurt am Main)
4:30 – 4:40 p.m.
Discussion
4:45 – 5:15 p.m.
"30 YEARS OF EXILE" – THE GERMAN BIOGRAPHY OF NURIA QUEVEDO
April Eisman (Iowa State University)
5:30 – 5:45 p.m.
Break
5:45 – 6:45 p.m.
ALTERNATIVE NARRATIVES. ARE THE BLACK PICTURES AN INVENTION OF THE EAST?
Angela Lammert (Academy of Arts, Berlin)
6:45 – 7:00 p.m.
Discussion
7:00 p.m.
Final discussion & wrap-up
Concept development for the workshop is by Melanie Franke; it has been organised jointly with the art-historical research group "Images of History in Contemporary Art".
REGISTRATION
If you are interested in attending the workshop, please register by 20 September 2023 at the e-mail address max.boehner@uni-potsdam.de to participate. The number of participants is limited.
SHORT BIOGRAPHIES
Prof. Dr. APRIL EISMAN is a professor of art history at Iowa State University and co-founder of the Transatlantic Institute for the Study of East German Art. She studied art history at the Courtauld Institute of Art in London and received her PhD from the University of Pittsburgh on "Bernhard Heisig and the Cultural Politics of East German Art". Since then, she has been researching and publishing in particular on the art of the GDR.
Prof. Dr. FLORIAN GROTZ is a professor of political sciences, particularly comparative government, at the Helmut Schmidt University of the Federal Armed Forces, Hamburg. Prior to that, he worked at the Universities of Heidelberg, Berlin (FU), Würzburg and Lüneburg, and was a visiting scholar at various research institutes within Germany and abroad. His academic interest is in the workings and reform of democratic institutions in Germany and Europe.
Prof. Dr. VIOLA HILDEBRAND-SCHAT is a professor of art history at the Goethe University in Frankfurt. Her teaching and research focus is on modern and contemporary art; her particular interest is in the relationship between text and image. This includes the significance of texts for artistic work, and the use of the book as a medium of expression and mediation. Worth mentioning here: her publications on the artist's book and on Sigrid Sigurdsson's open archives and, most recently, the performative space. She is currently researching models of the narrative and their significance for contemporary Russian art.
Dr. ANGELA LAMMERT is a university lecturer at the Institute for Art and Visual Studies at the Humboldt University Berlin and head of interdisciplinary special projects in the Visual Arts Section of the Academy of the Arts, Berlin. She has developed the concepts for and organised scientific symposia for many years together with renowned institutions in Germany and abroad; in addition, she has been the responsible curator of numerous exhibitions. The focal areas of her research are in the history and theory of photography and sculpture, in space and notation theory and in the history and theory of modernity.
ANNE RIECK, M.A., studied art theory and criticism at the HBK Braunschweig until 2014 and is currently pursuing her PhD at the Philipp University of Marburg on "Strategies of self-presentation in Elisabeth Voigt's late work. New beginning after 1945 in the field of tension of cultural policy developments in the GDR". From 2011 to 2019, she was an employee of the DFG-funded digitalisation projects for the purpose of protecting cultural assets at the Herzog August Bibliothek Wolfenbüttel and the Herzog Anton Ulrich Museum Braunschweig.
As an artist, author and cultural worker, Dr. ELSKE ROSENFELD researches the history of dissidence in Eastern Europe and the events of 1989-90. In "A Vocabulary of Revolutionary Gestures", her current artistic research project, she investigates bodies as the site and archive of political events. Since 2018, she has been a board member of the Stiftung Haus der Demokratie und Menschenrechte, a foundation dedicated to promoting the ideas of the citizens' movements of the GDR. In 2019, she co-curated the "Palast der Republik" festival at the Haus der Berliner Festspiele.
LUISE THIEME, M.A., studied art history at the University of Leipzig until 2020, and is currently pursuing her PhD at the Friedrich Schiller University Jena on "Counter-narratives. Artistic feminist practice in the GDR starting in 1970". From 2018 to 2020 she worked as co-curator and research assistant at the Galerie für Zeitgenössische Kunst in Leipzig, and was a lecturer at the Burg Giebichenstein University of Art and Design Halle in 2022.
With kind support of