Symposium: (Hi)Stories in Art after the End of the Cold War
Participants: Ernst van Alphen, Melanie Franke, Ulrike Gerhardt, Ana S. Gonzalez Rueda, Robert Kehl, Karin Krauthausen, Kirsten Merete Langkilde, Nicolaj van der Meulen, Deimantas Narkevičius, Tatiane de Oliveira Elias, Elisabeth Pichler, Dieter Roelstraete, Dorota Sajewska, Thorsten Schneider, Victoria H. F. Scott, Jörg Wiesel und Julia Wolf
Concept and organisation: Prof. Dr. Melanie Franke in collaboration with Ulrike Gerhardt, M.A., Nadja Putzi
November 2-3, 2017
FHNW University of Applied Sciences and Arts
Northwestern Switzerland
Academy of Art and Design
Campus of the Arts
Freilager-Platz 1
4142 Münchenstein near Basel
High-rise building
1st floor, auditorium, D 1.04
How are (hi)stories in art interlinked? This conference questions the conditions that gave rise to an awareness of history in art and its qualities; specifically, it examines the repercussions of a political and economic turning point in history. The turning point represented by the end of the Cold War (1989/91), when political blocs and their ideological systems collapsed, resulted in pioneering aesthetic concepts with which artists re-examine past and present perspectives of history.
Crises are generally understood as catalysts that reveal hidden possibilities. In terms of aesthetic approaches, what possibilities have arisen for today's generation of artists as a result of the new, global, and unstable realities of recent history? In relation to contemporary art, the associated phenomenon has been designated as the "historiographical turn". The aim of our symposium is to explore in more depth just what that means.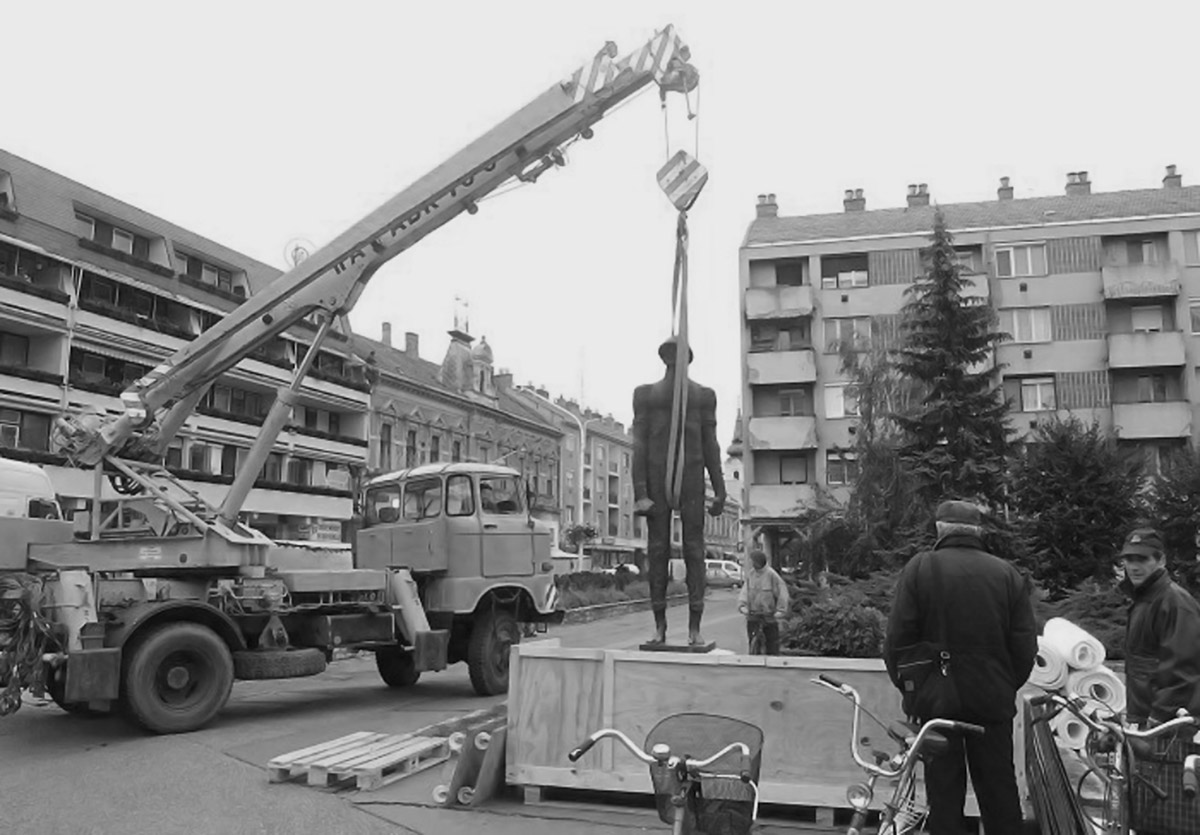 November 2, 2017
8:50–9:10am
Welcome
Kirsten Langkilde
Melanie Franke
9:10-10:40am
Transcultural (Hi)Stories
Following the end of the Cold War, art history is increasingly reflecting its own geopolitical constitution and widening its Eurocentric / American – in other words 'Western' – lens to include decolonial, intercultural, and transcultural perspectives. Binary and fixed art-historical categories – whether national, regional or religious – are reformulated through transculturation, i.e. through transcultural narratives of an "entangled art history". Exhibitions of world art such as the documenta and the biennials on different continents are good examples of globalized exhibition practice that – despite popularization and market conformity – often follows an innovative horizontal and comparative approach in which contrasting historical concepts and artistic narratology, for instance from South America and Eastern Europe, not infrequently enter into a dialogue.
Moderation: Nicolaj van der Meulen


9:10–9:45am
Keynote
Ernst van Alphen
The Decline of Narrative and the Rise of the Archive
The talk is dedicated to art practices that mobilize the model of the archive. These practices probe the possibilities of what art is and can do. But also they explore and challenge the principles on which archival organizations are built. It is since the 1960s that archival principles have increasingly been used by artists to inform, structure, and shape their works. They usually interrogate the self-evidentiary claims of the archive or their works result in the creation of another archive as a means of establishing an archaeological relationship to history, evidence, and data. In his talk, Ernst van Alphen will address the decline of narrative as symbolic mode, and the rise of the archive through a reading of works of Walid Raad, Santu Mofokeng and Akram Zaatari.


9:45–10:20am
Tatiane de Oliveira Elias
The São Paulo Art Biennial after the End of the Cold War
This presentation examines the extent to which the end of the Cold War influenced art in Latin America, and more especially the São Paulo Art Biennial that was first held in 1951. The focus of de Oliveira Elias' interest is the Biennial's artistic and political development as influenced by globalization, geopolitical shifts and postcolonial debates.


10:40–10:55am
Break


10:55am–1:00pm
Revisions of Modernity
The heritage of modernism offers a tantalizing scope for retro-utopian excursions into the past. Increasingly during the 1990s and 2000s, artists embarked on a critical reassessment of socio-political utopias, aesthetic manifestations, and the formal languages of modernism. A unifying characteristic in their presentation in the media or on stage, or by means of other artefacts, was polyphonic narratives about the past in the present. Thinking "I wish it were yesterday" or "What if…?", artists re-created historical eras with a view to a possible future, and this included questions about the conditions that gave rise to modernism and how it was viewed. In a spirit of artistic exploration and mapping of "multiple modernities", new interpretations of rejected and forgotten currents were formulated.
Moderation: Jörg Wiesel

10:55–11:30am
Robert Kehl
Narrating, Showing, Silence – Historical Painting and Its Framings
Based on the artistic work of Luc Tuymans since the 1990s, Robert Kehl discusses the interrelation between narratological approaches and their disappearance in the face of modernist critique of imitation and historical trauma. It is in this field of tension that he locates Tuymans' painting, in which he observes a new kind of reconfiguration of work and narrative, for which historical narratives play a special role.


11:30am–12:05pm
Thorsten Schneider
From Double Mimesis to Double Bind – Ian Hamilton Finlay's Visual Narratives
The Scottish poet and artist Ian Hamilton Finlay carried out a revision of modernism, a "modernisme noir", which Thorsten Schneider outlines in his contribution. In addition, according to him, the conflict between 'East' and 'West' can be read as a narrative subtext in Hamilton Finlay's works between the 1960s and 1990s. The lecture focuses particularly on the narrative in the individual image.


12:05–12:40pm
Melanie Franke
Discovery and Narration – Key Moments of Modernity at Simon Starling
The works of the British artist Simon Starling read like poetological instructions for action, in which artifacts or personalities of modernity are questioned about their ideas and possibilities. Melanie Franke presents how Starling – based on extensive research – traces the vocabulary of modernism and the structures underlying its myths back to their origins through media transfer and contextual change. How does he dissect the utopia of a coherent narrative, showing us its inconsistencies, also as a critique of contemporary narratives, while using narrative methods himself?


12:40–1:00pm
Discussion

1:00–2:00pm
Lunch Break


2:00–3:30pm
Archival Ghosts
The archive is thriving. With an unparalleled amount of data now being archived, it is becoming increasingly difficult to keep artistic uses of institutional repositories of information and knowledge in sharp focus and to identify them exactly. Sometimes artists make use of existing archive material, sometimes they themselves collect or produce archive material documenting events that lie outside the scope of official historiography, or they allow what is ghost-like to manifest itself in archived (hi)stories. These working methods promote 'uncanny' narratives that transcend the organizing and dispassionate nature of the archive and its locale, yet which incorporate its factuality and meta-temporality. How artists-as-transgressors enter archives, and reorganize the information they find there as a hybrid area of knowledge in the arts is connected to the question of what roles they adopt as researchers. Hal Foster wrote about this aspect in the 1990s, and our symposium intends to expand on the topic.
Moderation: Melanie Franke


2:00–2:35pm
Elisabeth Pichler
Borderline Appropriations – Potentials of an Artistic Reflection of Photographic Material from the Stasi Archives
Different forms of artistic appropriation of archive material from the Berlin Stasi documentation authority will be presented in this lecture. On the basis of two artistic works by Jens Klein and the duo Wermke and Leinkauf, Elisabeth Pichler explores the question of the ways in which artists explore the "boundaries of the archives" and make the existing visible anew within independently chosen discursive frameworks.


2:35–3:10pm
Julia Wolf
Present Ruins. Artistic Perspectives on (Hi)stories in Conflict Zones
Contemporary artistic attitudes increasingly devote themselves to 'ruinous' places and search for alternative media approaches to tell the associated stories of destruction. Using the example of artists such as Petrit Halilaj or Michael Rakowitz, Julia Wolf explores the question of how artistic works that refer to concrete contemporary ruins participate in processes of generating knowledge about our present.


3:10–3:30pm
Discussion


3:30–3:50pm
Break


3:50–5:20pm
Resistant Narratives
Trends in representational criticism in contemporary historiography are reflected in the work of film and video artists who deal with time, memory, and utopian moments. They interpret history as a never-ending construct that is impossible to separate from subjective experiences and motivations. It is necessary for artists to question history in this way because in doing so they reveal expanded means with which history can be represented: they question the development of knowledge, take the interconnections between history and narratology as their theme, and at the same time reflect on historical knowledge beyond the "order of things". As early as the 1960s, Michel Foucault lamented the loss that ensues when specialization in individual disciplines and their rarefied taxonomies means knowledge cannot be generally used. Over time, it enters the sphere of unverifiable knowledge or even sinks into oblivion. The artistic approaches selected for our conference are to be understood as tests of the relevance of these theses: they question how knowledge is created and at the same time reflect on historical knowledge beyond the context of art. They implicitly ask how something sinks into oblivion, continues to exert a subliminal influence, and what mechanisms cause it to reappear.
Moderation: Ulrike Gerhardt

3:50-5:00pm
Artist Talk with Deimantas Narkevičius and Dieter Roelstraete
Around the early 2010s Dieter Roelstraete observed the "historiographic turn" in art, in which contemporary artists such as Deimantas Narkevičius discovered potentials for the future within the past, developed alternative historiographies and fundamentally questioned the history of 'Western' modernity. Dieter Roelstraete and Deimantas Narkevičius have known each other and collaborated since many years and share a profound interest in history and storytelling after 1989 / 91.


5:00–5:30pm
Discussion


5:30pm
Apéro / Drinks


November 3, 2017
9:00–9:10am
Welcome
Melanie Franke

9:10–10:40am
Transgenerational Memory
The representation of transgenerationality is crucially important for art produced after the Cold War that deals with the narrative of (hi)stories. "Postmemories" are memories of events and narratives that exist in the present for a preceding generation and which predate the birth of those affected. In many contemporary works of art, inter- and transgenerational dynamics and transferences are enacted performatively: through the body and its gestures, language or a narrative structure. As individuals' memories of socialism and the Cold War gradually fade, and as those born later have no first-hand knowledge of them, memory acquires a new freedom that is detached from experience, and opens up space both for imagination and poetic-somatological, narratological transmission from generation to generation.
Moderation: Julia Wolf

9:10–9:45am
Dorota Sajewska
Queer Testimony – Decolonization of the Archives in Contemporary Art in Poland (Karol Radziszewski)
Dorota Sajewska refers to the specifics of the history of queer culture in socialist countries under conditions of political oppression and cultural marginalization. Using Karol Radziszewski's artistic works as an example, processes of archiving, re-medialization and re-staging in art and performative historiography as well as the role of body-based testimony in transcultural and transgenerational memory will be reflected upon.


9:45–10:20am
Ulrike Gerhardt
Shapes of Postmemory – Transgenerational Memory in Postsocialist Video Art
In this contribution, the concept of "postmemory" is detached from the context of Holocaust research and elaborated as an imaginative, narrative form of transgenerational memory. With a special focus on the traumatic memory of the gulag, Ulrike Gerhardt presents video works that reflect the hybridity of places, stages and forms within artistically mediatized postmemories from the perspective of the postsocialist present.


10:20–10:40am
Discussion


10:40–10:55am
Break


10:55–11:30am
Unforeseeable Instituent Practices
The research methods of the South African traditional herbalist Mafavuke Ngcobo in the 1940s can be understood as emancipatory and forward-looking, linked to a social experience that in the dominant institutional forms of the day could not (yet) be articulated. Around 2005-2009, in contrast, numerous examples of instituent processes and constituent power were seen to compete with one another. In view of the decline of representative democracies in the 'West', and wide-ranging social marginalization across the world, it appears that it is becoming increasingly important to reflect on the modi operandi of national and transnational institutions, or more specifically the proliferation of instituent working practices. Can it be that a university's internal 'governance' by members of the secret services is an example of serious "disruption between movement and institution" (Stefan Nowotny and Gerald Raunig) with devastating, destituent consequences? Are instituent and destituent practices a historico-political characteristic of global societies after the end of the Cold War?
Moderation: Karin Krauthausen

10:55–11:30am
Ana S. Gonzalez Rueda
Uriel Orlow's Mafavuke's Trial and Other Plant Stories – A Decolonial Reading
Artist Uriel Orlow's video installation The Crown Against Mafavuke (2016) re-imagines the trial of South African herbalist Mafavuke Ngcobo, accused in 1940 of "untraditional practice" by the local white medical establishment. According to Ana S. Gonzalez Rueda, Orlow's critical analysis brings to light the confrontation and cross-fertilization between white and indigenous medicine and – from the perspective of the 21st century – puts forward a decolonial epistemological challenge to the Western worldview.


11:30am–12:05pm
Victoria H. F. Scott
Spies in the Academy – Academic Freedom and Art History Post 9/11
After 9/11 academics on both the Left and Right were willing to collaborate with intelligence agencies around the world, in a variety of formal and informal capacities, and art historians were no exception. By questioning in what ways scholars and art historians have collaborated with global intelligence agencies as well as by finding out how this has shaped the academies and the discipline as a whole, Victoria H. F. Scott brings a historical problem to light.


12:05–12:35pm
Final discussion and conclusion
Participants' short bios:
Prof. Dr. Ernst van Alphen is professor of literary studies at Leiden University. His publications include Francis Bacon and the Loss of Self (1992), Caught By History: Holocaust Effects in Art, Literature and Theory (1998), Art in Mind: How Contemporary Images Shape Thought (2005), Staging the Archive: Art and Photography in Times of New Media (2016) and Failed Images: Photography and its Counter-Practices (in print).
Prof. Dr. Melanie Franke has been professor of art history and research at the Academy of Art and Design (FHNW) in Basel since 2009; she has held various guest professorships. Her research interests include narratology in sculpture, spatial, film and video installations, transcultural topics, artists' writings and interviews, autopoetic procedures in surrealism and exhibition concepts.
Ulrike Gerhardt, M.A., is a doctoral candidate at the graduate college Representation Visuality Knowledge of Leuphana University of Lueneburg, where she is researching the cultural memory of the transformation after 1989/91.
Ana S. Gonzalez Rueda, M.A., a doctoral candidate in museum and gallery studies at the University of St Andrews, investigates the influence of radical pedagogy on curatorial practice.
Dr. des. Robert Kehl, art historian, recently submitted his dissertation entitled Under Suspicion – Luc Tuymans' Access to the History of National Socialism and the Holocaust (2017) to Free University of Berlin.
Prof. Dr. Karin Krauthausen, literary and cultural scientist, was a coordinator of the PhD-Net The Knowledge of Literature at Humboldt University of Berlin. Her research interests include design techniques of artists and scientists, realisms of the 19th-21st century, and the poetics of history with Hans Blumenberg and Paul Valéry.
Prof. Kirsten Merete Langkilde is director of the Academy of Art and Design (FHNW) in Basel, where she initiated the European Center for Art, Design and Media-Based Research (ECAM) in 2016.
Prof. Dr. Nicolaj van der Meulen and Prof. Dr. Jörg Wiesel head the Institute of Aesthetic Practice and Theory at the Academy of Art and Design (FHNW) in Basel. Van der Meulen's research focuses on aesthetic practices in art, image practice, image theory and image history, design, draft, craft and culinary arts. Wiesel habilitated in 2007 at the Department of Philosophy and Humanities at Free University of Berlin.
Prof. Deimantas Narkevičius is an internationally renowned film director, video and installation artist from Vilnius and professor of sculpture at Vilnius Academy of Arts.
Dr. Tatiane de Oliveira Elias, art historian from Belo Horizonte, received her doctorate on The Art Films of Hélio Oiticica (2014) at the State Academy of Art and Design in Stuttgart.
Elisabeth Pichler, M.A., is a scholarship holder at the German Research Foundation-graduate college Das fotografische Dispositiv at Braunschweig University of Art; she is doing research on artistic-curatorial practices in dealing with archive photographs of the BStU.
Curator and art critic Dieter Roelstraete was trained as a philosopher and was part of the curatorial team for documenta 14 in Kassel and Athens in 2017; he has also worked as Manilow Senior Curator of the Museum of Contemporary Art Chicago (MCA, 2011-2015) and as curator of the Antwerp Museum of Contemporary Art (MuHKA, 2003-2011).
Prof. Dr. Dorota Sajewska is assistant professor for Interart (Eastern Europe) at the University of Zurich and is currently working on the German Research Foundation and Polish National Science Foundation research project Performing Memory – Testimonial, reconstructive and counterfactual strategies (2016-2019).
The art historian Thorsten Schneider, M.A., has been working on his doctorate in Critical Art History in the Federal Republic of Germany, 1967-1974 at the University of Fine Arts Münster since 2015 and teaches at the Münster School of Architecture and the University of Konstanz, among others.
The art historian Victoria H. F. Scott, M.A., is specialized in US and European art after 1945 and co-founder of the European Postwar and Contemporary Art Forum (EPCAF).
Julia Wolf, M.A., is a research assistant at the Institute for Cultural Studies in the Arts at Zurich University of the Arts, is doing her doctorate at the Academy of Fine Arts Vienna and works as a freelance curator on exhibition projects.
Imprint

Symposium: (Hi)Stories in Art after the End of the Cold War
An event of the European Center for Art, Design and Media-Based Research (ECAM) University of Applied Sciences Northwestern Switzerland, Academy of Art and Design, Basel
Concept and idea: Melanie Franke in collaboration with Ulrike Gerhardt, Nadja Putzi
Copyediting: Almut Otto, Berlin; English translation: Nigel Stephenson, Basel
Communication: Jenni Schmitt; Design: berger + stadel + walsh, swiss-based international design
Catering: SV (Schweiz) AG, Gastronomie, Sabine Murschel
Thanks to: Stefanie Hungerbühler, Barbara Lenzin, Edward Mickonis, Mario Klinger and to the Institute of Aesthetic Practice and Theory (Nicolaj van der Meulen, Jörg Wiesel)
www.fhnw.ch/hgk
www.campusderkuenste.ch
www.ecam.ch