Narrative constituting in art since the 2000s (three case studies)
Participants: Max Böhner, Marie Egger, Melanie Franke, Byung-Chul Han, Stephan Hauser, Gabriele Knapstein, Oliver Krätschmer, Matías Martínez, Catherine Nichols, Helene Romakin, Maya Schweizer, Simon Starling
The workshop on Narrative constituting in art since the 2000s (three case studies) will take place in the scope of the Images of History in Contemporary Art research project, funded by the Swiss National Science Foundation (SNSF) in Berne:
October 19, 2023, 05:00 p.m. – 08:00 p.m.
October 20, 2023, 11:00 a.m. – 06:00 p.m.
VENUE
Hamburger Bahnhof – Nationalgalerie der Gegenwart, Berlin
Invalidenstraße 50–51
10557 Berlin
Present-day narrative patterns and their influence on the arts of today after the end of the "grand narratives" are to be examined. Language is not the only possibility for narration; images, objects and films also narrate. The philosopher Byung-Chul Han attests to a crisis of narrativity, since, from his perspective, narratives are increasingly transforming into forms of consumption, and communicating on social media platforms is being substituted for narrating. Against this backdrop of transformation in the information society and the disappearance of narration, the emphasis is placed in the scope of this workshop on various artistic narrative forms. The aim of the workshop is to elaborate on the heterogeneous characteristics of artistic storytelling: first, narrrating and remembering – how fluid connections result in utopian moments (I), second, the absence of narrative as a reaction to the unavailability of the world (II), and third, disintegrated conceptual contexts and vibrating referentiality (III). How do artists deal with historical narratives that have been reduced to silence?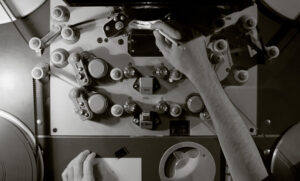 Simon Starling, Black Drop, 2012, 35 mm film transferred to HD with sound, 27:24 min., film still © Simon Starling.
WORKSHOP PROGRAM
Thursday, October 19, 2023
5:00 – 5:15 p.m.
WELCOME
Dr. Gabriele Knapstein, Deputy Director, Hamburger Bahnhof – Nationalgalerie der Gegenwart
Prof. Dr. Melanie Franke, head of Images of History in Contemporary Art
5:15 – 6:15 p.m.
CASE STUDY I – NARRATING AND REMEMBERING – HOW FLUID CONNECTIONS RESULT IN UTOPIAN MOMENTS
Maya Schweizer in conversation with Prof. Dr. Melanie Franke, head of Images of History in Contemporary Art
6:15 – 8:00 p.m.
APERÓ
Friday, October 20, 2023
11:00 – 11:15 a.m.
ARRIVAL AND COAT CHECK
11:15 – 11:30 a.m.
WELCOME
Prof. Dr. Melanie Franke, head of Images of History in Contemporary Art
11:30 – 12:30 a.m.
ON THE SPECIFICS OF NARRATION RESEARCH IN THE ARTS OF THE FIRST DECADE OF THE 2000S
Prof. Dr. Matías Martínez, narrative researcher, Center for Narrative Research, Bergische University of Wuppertal
12:30 – 2:00 p.m.
LUNCH BREAK IN THE RESTAURANT OF THE HAMBURGER BAHNHOF
2:00 – 3:00 p.m.
CASE STUDY II – THE ABSENCE OF NARRATIVE AS A REACTION TO THE UNAVAILABILITY OF THE WORLD
Presentation and response from Dr. Stephan Hauser, Schaulager Basel
3:00 – 4:00 p.m.
CASE STUDY III – VIBRATING REFERENTIALITY
Simon Starling in conversation with Dr. Catherine Nichols, Hamburger Bahnhof – Nationalgalerie der Gegenwart
4:00 – 4:30 p.m.
BREAK
4:30 – 5:30 p.m.
CRISIS OF NARRATION IN THE ARTS?
Prof. Dr. Byung-Chul Han, University of the Arts Berlin
5:30 – 6:00 p.m.
FAREWELL AND END OF THE EVENT
Concept development for the workshop is by Melanie Franke; it has been organized jointly with the art-historical research group "Images of History in Contemporary Art".
REGISTRATION
If you are interested in attending the workshop, please register by October 17, 2023 via the e-mail address max.boehner@uni-potsdam.de to participate. The number of participants is limited.
SHORT BIOGRAPHIES
BYUNG-CHUL HAN first studied metallurgy in Korea, then philosophy, German and theology in Freiburg, Breisgau and Munich. After his residency, he taught philosophy, media theory and cultural studies at the University of Basel, HFG Karlsruhe and the Berlin University of the Arts. His books have been translated into more than 20 languages.
Dr. STEPHAN E. HAUSER (b. 1963). Studied art history, classical archaeology and modern general history in Basel. Doctorate on the concept of the image in Surrealism. 1990-1993 in New York, NY (collaboration on Lyonel Feiniger project) and New Haven, CT (estate of Kurt Seligmann). 1997-98 one year at the CNRS in Paris ("Le Surréalisme au carrefour des modernités"). Author of the monograph "Kurt Seligmann (1900-1962). Leben und Werk", Basel: Schwabe, 1997. Research fellow at the Schaulager, Münchenstein/Basel since 2004. At the same time, regular lecturing appointments with a focus on artist estates at the Department of Art History at the University of Basel. Since 2023, president of the sponsoring organisation ARK Archiv regionaler Künstler:innen-Nachlässe Basel. Numerous essays and articles (e.g., on Feininger, Duchamp, and on Swiss art of the modern and contemporary eras).
GABRIELE KNAPSTEIN is Deputy Director and Collection Manager at the Hamburger Bahnhof – National Gallery for the Present. She has been a Research Assistant at this institution since 2003 and Exhibition Director since 2012. Previously, she worked as a freelance curator for the Institute for Foreign Relations (ifa) and for the Galerie Neue Meister in Dresden. After receiving her doctorate in 1999 with the first scientific study on the event scores by the Fluxus artist George Brecht, she became a research museum assistant in advanced training at the Hamburger Bahnhof and in the art library of the State Museums in Berlin. She curated exhibitions such as Black Mountain. An interdisciplinary experiment 1933 – 1957, Wall Works, Architektonika and Beyond the Cinema. The Art of Projection.
MATÍAS MARTÍNEZ is professor of modern German literary history at the University of Wuppertal and founding director of the Wuppertal Center for Narrative Research (ZEF). His research areas include narratology, romanticism and modern poetry. Some publications: Wirklichkeitserzählungen. Felder, Formen und Funktionen nichtliterarischen Erzählens (co-ed., 2010), Klassiker der modernen Literaturtheorie (co-ed., 2010), Handbuch Erzählliteratur (ed., 2011), Fiktionalität und Non-Fiktionalität (ed., 2016), Handbuch Erzählen (ed., 2017), Einführung in die Erzähltheorie (co author, 11. Aufl. 2019), Postfaktisches Erzählen? Post-Truth – Fake News – Narration (ed., 2021).
CATHERINE NICHOLS is an art and literary scholar, curator and author. She is currently working as a curator at the Hamburger Bahnhof – Nationalgalerie der Kulturen in Berlin and recently curated the Manifesta 14 Prishtina: it matters what worlds world worlds: how to tell stories otherwise. In 2021 she was artistic director of the anniversary program "Beuys 2021. 100 years of Joseph Beuys". In addition to numerous cultural-historical exhibitions throughout Germany on topics ranging from the Reformation to passions, from the sun to sexuality, she has realized numerous monographic and thematic art exhibitions, including "Beuys. We are the revolution" (2008), "The end of the 20th century. The Best is Yet to Come" (2013) and "Das Kapital. Guilt – Territory – Utopia" (2016) and "Every person is an artist. Cosmopolitan Exercises with Joseph Beuys" (2021). She publishes regularly on contemporary art and has co-edited several books and catalogs, including The New Designer—Design as a profession (2023), Shine on Me: We and the Sun (2018), and Black Mountain. An interdisciplinary experiment 1933–1957" (2015).
MAYA SCHWEIZER (*1976 in Paris) studied art and art history in Aix-en-Provence, at the Leipzig University of Graphics and Book Arts and at the Berlin University of the Arts, where she graduated in 2007 as a master student with Lothar Baumgarten. Her cinematic works revolve around questions of history, identity and memory. Urban spaces as interfaces of individual and collective modes of action are often the starting point of her observation. In her perception of these places and spaces, she uncovers social realities, inscribed narratives and overlapping histories. Her works have been shown in numerous international solo and group exhibitions. In 2023 she received the Dagesh Art Prize at the Jewish Museum Berlin and was honored with a solo exhibition there.
SIMON STARLING (*1967 in Epsom, UK) lives and works in Copenhagen. He studied at Maidstone College of Art (1986–7) and Trent Polytechnic, Nottingham (1987–90) before completing an MFA at Glasgow School of Art in 1992. Interested in the journeys of people and objects, the origins of desire, and the value of materials, some of Starling's most notable works have transformed one object into another. So in 1996, Starling used the metal from an antique silver spoon to make copies of a counterfeit twenty pence piece he had found. His work has been shown worldwide, including at the Venice Biennale in 2003 and 2009. In 2005 he was awarded the Turner Prize. His most recent exhibitions include "Two Birds, No Birds" at Casey Kaplan in New York (2023) and "The Pencil of Menzel & The Path on the Wolf" at neugerriemschneider in Berlin (2021).
With the kind support of the Hamburger Bahnhof – Nationalgalerie der Gegenwart, Berlin.