Artist Talk with Uriel Orlow: The Memory of Trees
Artistic-historiographic fabulations and mythmaking
January 18, 2023, 9:45 CET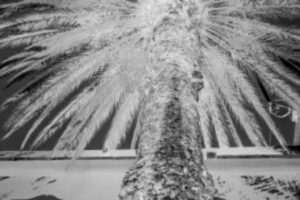 Uriel Orlow, The Memory of Trees, black and white photograph, 150cm x 120cm, 2016 © Uriel Orlow.
Event info
Zoom Link: https://uni-potsdam.zoom.us/j/68354292780
Meeting-ID: 683 5429 2780
Passcode: 94419276
Meeting point on site with the research team: University of Potsdam, Campus II – Golm, UP_2.24.2.08
Language: German
What can we learn from plants and their healing powers?
Artist Uriel Orlow talks about his explorations and intimate encounters with plants. He presents drawings, photographs, narratives, and series of works that invoke plant creatures, such as trees, as archaic and mythical witnesses and co-authors of history that store memories of past events. According to Orlow, they can remind us how the past lives on in the present. This artist talk will be followed by a Q & A with Prof. Dr. Melanie Franke, Verena Kittel, Ulrike Gerhardt and students.
Uriel Orlow lives and works between Lisbon, London and Zurich. In his research-based and interdisciplinary art he deals with the visibility of colonialism, spatial manifestations of memory and the political agency of plants. He studied at Central Saint Martins College of Art & Design in London, among other institutions, and received his PhD in 2002. He received the C. F. Meyer Prize (2020), the Sharjah Biennial Prize (2017), the art award of the City of Zurich (2015), and three Swiss Art Awards from Art Basel (2008, 2009, 2012).